Hotel Hanakagura is located in Higasikagura city, which is famous for beautiful flowers. It is 4 km from Asahikawa airport and 11km from Asahikawa,


Welcome to Hotel Hanakagura
Hotel Hanakagura is located with easy access to Asahikawa, Furano and Biei. Surrounded with beautiful nature, you can enjoy outdoor activities such as cycling, horse riding, walking and boating.

From Japanese rooms with a private onsen to Western twin rooms, the choice is yours.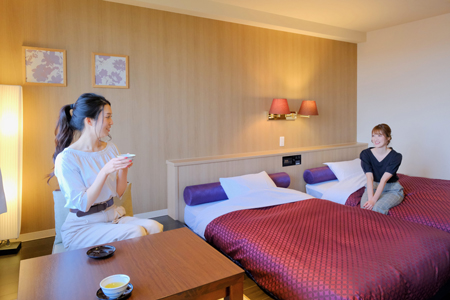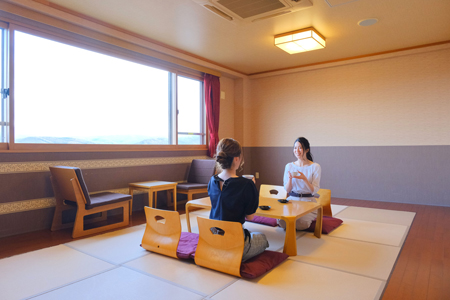 Western Style Twin…13㎡

The room is decorated based on "earth color", green for forest, yellow for flowers, and brown for earth, each with its own taste. We also have rooms for non-smokers.

Japanese Style Standard Room (Type-A)…19㎡

A very spacious room, with a large window to enjoy the warmth of the sunlight, and the scenery. We also have barrier-free rooms, so our guest can enjoy their stay with their loved ones.

Japanese Style Standard Room (Type-B)…19㎡

All rooms have large windows with a great view of the Daisetsu Mountain Range. The amazing scenery matches perfectly with the warm hue of the room, showing you the different faces of the great nature.

Japanese Style Room with Private Hot Spring (Type-A)…19㎡

A Japanese style room decorated in a cool hue. You can enjoy the unique features of each season from the private hot spring. Refresh your body in the tub and your mind with your eyesight.

Japanese Style Room with Private Hot Spring (Type-B)…19㎡

All of the rooms are located at both corners of each floor. The two windows located in the corner of the room, brightens up the room with natural light. The porcelain bath tub for the private hot spring in the balcony has a different design for each room, adding a quaint taste to the scenery.
For families and gathering with friends, how about a leisurely stay at our cottage type villa?
We have three types of cottage for our guests to enjoy their stay at ease;
For 4 people (73㎡, Balcony 12㎡)

"Poppy" "Cosmos" "Iris"

For 5 people (76㎡, Balcony 12㎡)

"Sweet Pea" "Salvia"

For 8 people (113㎡, Balcony 12㎡)

"Casablanca" "Marguerite"
The cottage is decorated in a warm wooden hue, with an antique touch. Spacious bedroom and a private kitchen is equipped. Private parking lot is available for those with cars. You can also enjoy BBQ in the yard from spring to early autumn. The cottage is decorated in a warm wooden hue, with an antique touch. Spacious bedroom and a private kitchen is equipped. Private parking lot is available for those with cars. You can also enjoy BBQ in the yard from spring to early autumn.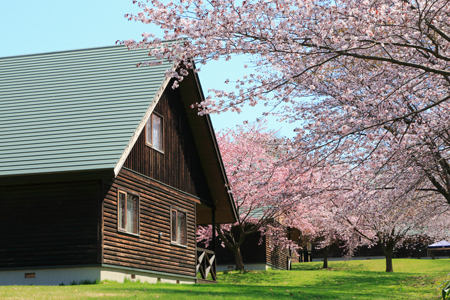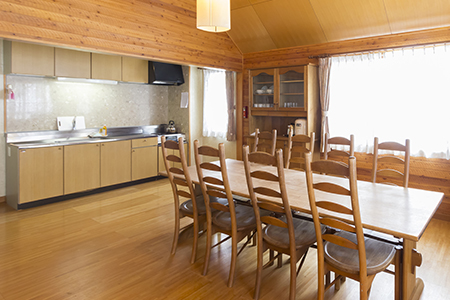 Enjoy our fresh Hokkaido cuisine and the forest and mountain views from your table in our restaurant.
Dinner is a compromise course of Japanese, Chinese, and Western style dishes, using the foodstuffs in season. Breakfast will be served in Japanese and Western style buffet. For beginners of Japanese food, please take this chance to try some of the orthodox Japanese breakfast menus. We also have three types of course menus for small reunions to party users at a very reasonable price, with a hot spring coupon.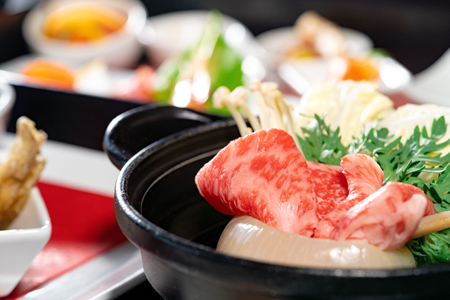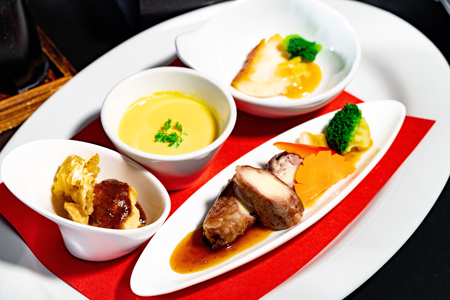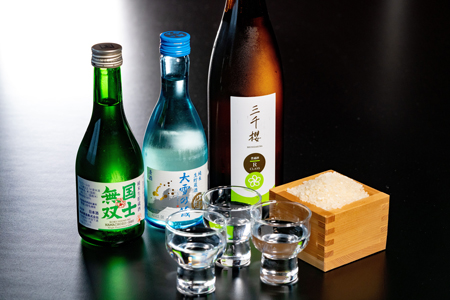 Our hotel restaurant "Alstroemeria".
Open hours:

11:00-14:30 / 17:00-20:30
Our chef puts an effort in pasta's, using the seasonal materials to the full advantage. Spinach pasta with cream sauce using spicy Pollack roe, Japanese pasta made out of rice flour, Carbonara using pancetta made in Hokkaido, and many more. Besides pasta, typical dishes of Japanese, Chinese and Western food are also available.

-Open Hours-

10:00-22:00

Mineral Composition:

Simple radio active hot spring; hypotonic, alkalescent and low temperature.

Effective for:

Neuralgia, Muscular pain, Joint pain, Sprain, Poor-circulation, Bruise, Burn, Cut, Hemorrhoids, Stiff-shoulder, Chronic dermatitis, Improving health, Chronic women's diseases, Arteriosclerosis.

People with the following conditions should not enter the hot spring (or consult with your doctor beforehand):

Acute disease especially fever, tuberculosis, malignant tumor, serious anemia, pregnancy (especially 1st and 3rd trimester).
"Public Hot Springs"

Separate hot springs for both men and women. We have outdoor bath pools with a panoramic view of the Daisetsu Mt. Range, inside bath pool with a wide window facing the great landscape.

"Barrier-free Hot Spring"

We have a barrier-free bath pool with a electric chair lift for wheelchair users.

"Family Spa"

We also have a large private bath pool, for families. ( Please make a reservation beforehand.)

"Herbal Sauna Bath"

A sauna bath with herbal aroma to refresh your body and mind.
Inside the public bath area, we have two relaxation lounge and one relaxation room with massage chairs.

"Mini-Game Arcade" for small children to enjoy their free time.
"Karaoke Room" for a good rest, or simply blow off your stress by singing with your friends and family.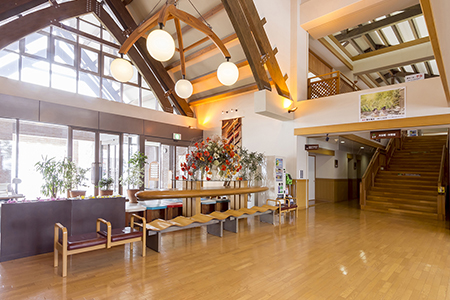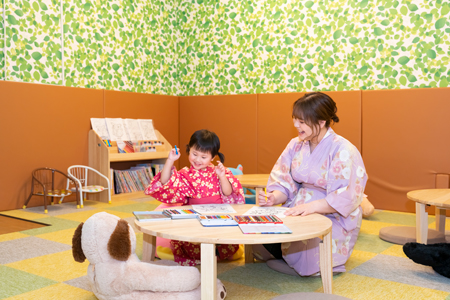 Easy access to Asahikawa airport. If you travel around Hokkaido, Hanakagura is a recomended stop due to its location.
Free Shuttle Bus…40min ride from Asahikawa station.
Shuttle bus for guests:

Please make sure to book a seat beforehand.

Shuttle bus for daily users:

No reservation is needed.

Local Bus…40min ? 1hour ride.

Higashikagura line:

No.67 and No.76 bus. Asahikawa Station⇔Route 12 Higashikagura.

Town bus (school bus) line:

Route 12 Higashikagura ⇔ Mori No Yu Hanakagura.
By Car;
30min. from Asahikawa station:

By Do-do(Prefectual Road) Higashikawa-Higashikagura-Asahikawa line.

15min. from Asahikawa Airport:

By Do-do Asahikawa Airport line.

20min. from Asahikawa Zoo.

30min. from Sypal Asahikawa Science Museum.

2hour from Sapporo by Express Douou Highway.

Must see spots around Higashikagura
Please click to see info around Hotel.

"Asahidake" (Daisetsuzan National Park)

It is known as the highest "peak" in Hokkaido with the altitude of 2,291m.

From spring to early autumn, you can enjoy its nature. Taking a walk through the Nature Walking Trails, you can find many birds and flowers that can only be seen in this region, beautiful foliage in autumn. During the winter, you can enjoy skiing and many other winter sports at the best snow condition.

There are more than 150 species inhabiting in this Daisetsuzan National Park. It is a home to 90% of the terrestrial animals, and 80% of the terrestrial birds of all Hokkaido.

Natural phenomenons like Ground Hammock, Patterned Ground and Periglacial Terra can be observed in this area when in season.

"Higashikagura Forest Park"

A place where you can enjoy the nature and sports with your family and friends.

-Camping:

You can bring your own tent, or rent a bungalow, or a cabin. BBQ space is rentable too.

-Golf Course

-Monorail Cycling

-Boating: Swan boats or Row boats.

-Go-carts

-Cycling along the river.

-Tennis court

-3 on 3 basketball court

-Esplanade

-Aquatic playground

-Horse ride and/or Feeding horses.

"Asahikawa Zoo" (We have free shuttle buses coming and going) Here, you can see a Penguin FLY.

The penguin's stroll is one of the most famous eye-catcher of this zoo, but besides this attraction, there are many more things to look around.

-Regular animal feedings

Take a look at what and how these animals eat; Penguins, Polar bears, Seals, Orangutans etc… And if you are luck you maybe able to see Ostriches, Giraffes, Brown Bears being fed. In Asahikawa Zoo, you can catch a glimpse of the strong bond between the animals and zoo keepers, from the way that they are showed, and the animals full of life, which may be the biggest reason for the numerous repeaters visiting this place yearly.

"Sypal Asahikawa Science Center"

The largest science center in Hokkaido. Famous for its unique exhibitions that both children and adults can enjoy. The eye-catcher of this center is of course the planetarium. Sometimes, there is a long waiting line to watch this place. You can also enjoy your time in the observatory, looking at the "day time" of planets. You can also try out NASA's training machine; moon-walk to experience low gravity, or Space-top to experience zero gravity, or enter the cryogenic room to experience the low temperature of the northern country like Hokkaido.

"Furano Area"

Furano is famous for its lavender fields in summer. And it is also famous as the location place for the drama " Kita No Kuni Kara", which was a great hit in Japan.

Furano is a vast valley with an amazing landscape surrounded by Mt. Ashibetsu, Mt. Yubari, Mt. Furano-nishi, and the Tokachi Mt. Range, and a carpet of lavenders and many other flowers of the season unfolded before your eyes.

Furano is also an agricultural city famous for its onions, carrots, potatoes, asparagus and etc. You can also enjoy the local wine brand at Chateau Furano, and fresh cheese in the Cheese Factory.

"Biei Area"

A town famous for its hill and unique scenery.

-The tree of "Seven Stars", Hill of "Mild Seven"

It was the scenery actually used in the two famous cigarette packages.

Biei is also called the "Patchwork Hill", from the different colorings of different patches, looking like a patchwork cloth. You can enjoy many outdoor activities and craft works with your family and friends.

"Ayako Miura Literature Museum"

A contemporary literature novelist, born in Hokkaido.

This is a museum exhibiting Ayako Miura's literature, and goods with a connection to her literatures. This museum was built with a hope to spread her words throughout Japan and the world. English, Chinese, and Korean notation has been adopted for foreign visitors.